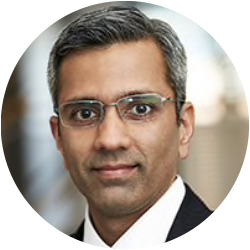 Mani Sundaram
EVP Global Services & Support, Chief Information Officer at Akamai Technologies
Read more
Mani Sundaram is Executive Vice President of Akamai's Global Services and Support Organization and Akamai's Chief Information Officer, based at the company's global headquarters, in Cambridge, Massachusetts. He leads Akamai's IT Organization as well as Global Services & Support (Professional Services, Account Management, Customer Support), in partnership with Charlie Phillips, Akamai's Senior Vice President, GSS.
Mr. Sundaram joined Akamai in 2007 as an architect in Professional Services, consulting with large media businesses. He was instrumental in creating a new services and support paradigm leveraged by Akamai customers to manage the largest online events in the world. He also assimilated Akamai's services teams around the world into a single, global organization. And with the integration of Prolexic security services into Akamai's global services organization, he helped to establish Akamai as a leading security provider.
Prior to Akamai, he worked in various roles in engineering, marketing and client services at Virtify Inc. and Stratus Technologies. He earned a Master's degree in Computer Science from Northeastern University, a Bachelor's degree in Information Systems from BITS Pilani, in India, and completed the Certificate of Special Studies in Administration and Management from Harvard University Extension School.